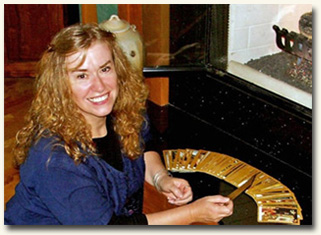 Below, you will find a summary of my education, certifications, and experience. To skip to a specific section of my biography, select from the following options:
Education
Chemeketa Community College

Associate Degree Science, graduation 1983.
Oregon Registered Nurse, (Ret.)
Marylhurst University

Bachelor of Art and Psychology, graduation 1993

One year of graduate study in Art Therapy
Institute of Transpersonal Psychology (ITP)

Master's of Arts in Transpersonal Studies, graduation 1997.
Focus in transpersonal psychology, religious studies, mind-body consciousness
Certifications

The Uses of Imagery in Medicine
(one year)
By Jeanne Achterberg Ph.D. and Frank Lawlis Ph.D.

Wellness Counseling and Mind Body Consciousness (one year)
Designed for ITP by Drs. Lawlis and Achterberg

Interactive Guided Imagery (13 hrs)
By The Academy for Guided Imagery

Nurses Certificate Program in
Interactive Imagery (one year)
By Terry Miller, RN, MS and Susan Ezra, RN


Holistic Nursing (one year)
By the American Holistic Nurses Association

Tarot Counseling (three years)
By Christine Payne-Towler

Clinical Aromatherapy
By RJ Buckle Asso.
Associations
Employment
Alternative Journal of Nursing
Editor
(541) 327-7749
www.altjn.com
An on-line journal that networks holistic nurses and is committed to exploring and furthering the evolution of the nursing profession.
Private Practice in Transpersonal Counseling
6-96 to present.
Description: As a certified holistic nurse, I offer a variety of healing arts to clients with serious physical illness and injury. These healing arts include guided imagery, energy work, meditation, expressive arts, Tarot, dream interpretation and mind-body consciousness.
I facilitate three therapeutic groups: Meditation as Medicine teaches the individual meditation and imagery techniques that promote health and healing; Dream Interpretation introduces students to creative dream work techniques for use in self-development and self-healing; Inner Journeys an ongoing experiential provided to help individuals explore levels of our inner consciousness through the use of guided imagery, dreams, Tarot and shamanic journeying.
Instructor for Archetypal Tarot Counseling™ course for health professionals

Jefferson Historical Society & Museum, Chair of design committee

Director, Oregon Holistic Nurses Association
Copyright 2003-2011 Toni Gilbert. All Rights Reserved.
Site Maintained by
KLH Technology Solutions
.